All Stafford products are handmade by retired tattoo artist Jim Stafford. These quality products are always one of a kind and built to last.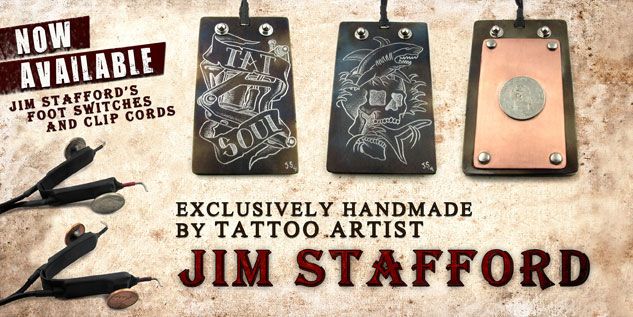 Each engraved foot switch is hand engraved on heat treated 1/8th in. steel which results in their unique look. The Coin Foot Switch is made from 1/8th in. heat treated steel, brass, and/or copper complete with distinctive coins collected from all around the world. These foot switches all include a powercord that is made from 16 gauge, 99% oxygen free copper wire. Similarly to the foot switch, each clip cord is made from a special 99.99% oxygen free copper wire which results in better conductivity; allowing tattoo machines to run smoother and at a lower voltage. These clip cords are available with either a 6ft. cord or an 8ft. cord. All Stafford products come with a lifetime warranty on unmolested items. To see more of Stafford's products, click here.
TATSoul's Instagram: @tatsoul
TATSoul's Twitter: @tatsoul
TATSoul's Facebook: www.facebook.com/TATSOULsupply.
Thanks,
TATSoul