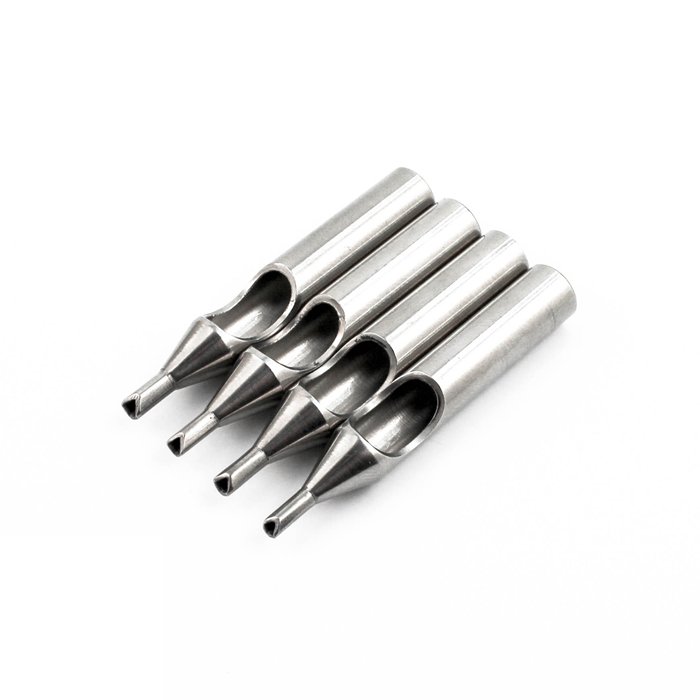 Blitz
Blitz Stainless Steel Tips Diamond
bl-tip-11-18d
All premium BLITZ stainless steel tips are machined from 316L stainless steel which is the best material in the industry. These are the most balanced manufactured tips in the industry. These premium tips are more resilient than most stainless steel tips out in the market. Tips, grips, tube stems are each sold separately and can be interchangeable. Tips work best when paired with premium BLITZ
back stem
pieces. Proudly hand inspected and made in the USA. Please note, 15 mag tips must be purchased as a full set (tip, grip, tube) and may be located in the Blitz Magnum Set section.
Made in the USA
Best precision crafted stainless steel tips in the market
Shaft is .3mm thicker than overseas manufactured tips
Perfect balanced weight distribution
Please note:

This product includes ONE tip.

Picture only shows different configurations available.
Note: Bugpin Needles do not fit in Blitz stainless steel tips.
Blitz tips and Envy needles fitting chart
Config
Standard needles
Bugpin needles
Magnum
1-5
5M*
N/A
7
7M
7M*
9M
9
9M*

11M

11
11M
13M
13
N/A
15M
Round
1-3
3RL
3RL-XT
3RL
5RL
5
5RL
5RL-XT
7RL-XT
7RL
8RL
9RL
7-9
7RL*
7RL-XT*
7RL-TRAD
8RL
8RL-TRAD
9RL
9RL-TRAD

9RL*
14RL
18RL

11-14
14RL*
18RS
18RL*
Diamond
1-3
3RL
3RL-XT
5RL
5RL-XT
3RL*
5RL
7RL
5
5RL*
7RL
7RL-XT
7RL*
8RL
9RL
7-9
7RL
7RL-XT*
8RL
8RL-TRAD
9RL
9RL-TRAD
14RL
8RL*
14RL
11-14
14RL*
18RS
18RL
* = slightly looser fit
N/A = Does not fit
Quick Order Form
Add multiple products and quantities below:
Blitz Stainless Steel Tips Round
Blitz Stainless Steel Tips Round -
7-9 / Round
$9.99
Blitz Stainless Steel Tips Round -
11-18 / Round
$9.59
Blitz Stainless Steel Tips Magnum
Blitz Stainless Steel Tips Magnum -
1-5 / Magnum
$9.59
Blitz Stainless Steel Tips Magnum -
7 / Magnum
$13.00
Blitz Stainless Steel Tips Magnum -
9 / Magnum
$9.99
Blitz Stainless Steel Tips Magnum -
11 / Magnum
$9.99
Blitz Stainless Steel Tips Magnum -
13 / Magnum
$9.99
Blitz Stainless Steel Tips Diamond
Blitz Stainless Steel Tips Diamond -
1-3 / Diamond
$9.99
Blitz Stainless Steel Tips Diamond -
5 / Diamond
$13.00
Blitz Stainless Steel Tips Diamond -
7-9 / Diamond
$13.00
Blitz Stainless Steel Tips Diamond -
11-18 / Diamond
$13.00