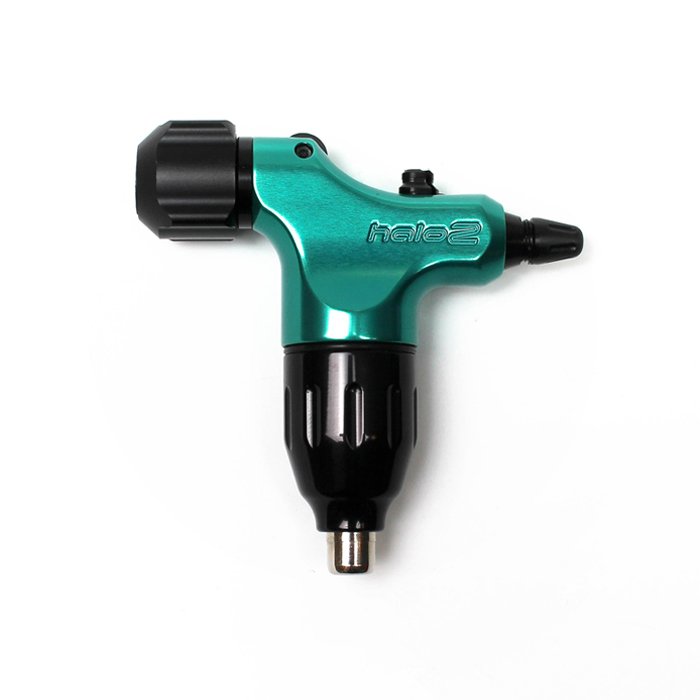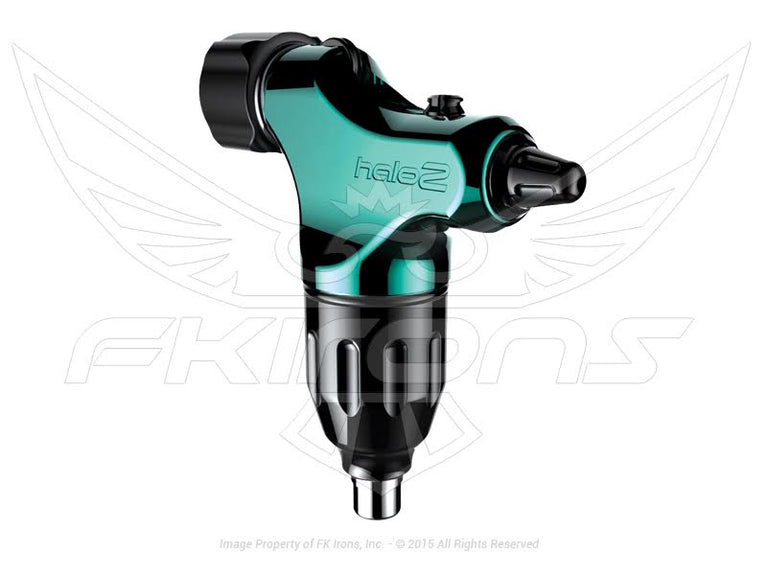 FK Irons
FK Irons Spektra Halo 2 Crossover Machine
fki-halo2-seafoam
Spektra is changing the game (again) with the new Halo 2 Crossover tattoo machine, the one that handles it all. Changing from cartridge needles to standard needles set up has never been easier with this new crossover design.
New Technology
The new technology includes a grommet-less needle clip-on and stabilizer system (Patent Pending) and an adjustable give that is optimized to perform flawlessly with both cartridges and standard needles, offering up to 4mm of give travel.
Adjustable Stroke
The Halo 2 Crossover has a new adjustable stroke with three preset locking strokes so you can go from 2.8mm to 4mm with ease.
Floating Collet Vise System
This crossover machine features Spektra's Floating Collet Vise System, which allows artists to use any standard or screw-on grip in the market.
HexDrive Mechanism
Spektra's HexDrive allows the motor to be detached while canceling the axial load on the shaft. The Halo 2 Crossover uses the same HexDrive MotorBolt as the Edge and Direkt, which means that if you have an Edge or Direkt you can interchange MotorBolts.
MotorBolt System
Spektra's MotorBolt System ensures the connection to your
power supply
is always secure, reducing the chance of the cord becoming disconnected and dropping power to your machine. The MotorBolt can be bagged along with your cord and tapped around to keep away from cross contamination. This design allows you to sanitize it after each tattoo.
The Spektra Halo 2 Crossover Machine comes with 2.8mm, 3.4mm and 4.0mm stroke wheels. The MotorBolt allows you to interchange between Machine Bodies with ease; This takes up less space in your setup station and makes the acquisition of more machines affordable.
Available Colors
Seafoam, Black, Gunmetal, Tangerine
Made in the USA.
All sales on this item are final. Please note that we do not accept returns on any machines that have been used.
About FK Irons
FK Irons are the creation of Gaston Siciliano. From its humble beginnings in a garage, FK Irons has grown to become a manufacturer trusted by renowned artists from all over the world.
Quick Order Form
Add multiple products and quantities below:
FK Irons Spektra Halo 2 Crossover Machine
FK Irons Spektra Halo 2 Crossover Machine -
Seafoam
$549.95
FK Irons Spektra Halo 2 Crossover Machine -
Black
$649.99
FK Irons Spektra Halo 2 Crossover Machine -
Gunmetal
$442.70
FK Irons Spektra Halo 2 Crossover Machine -
Tangerine
$384.99