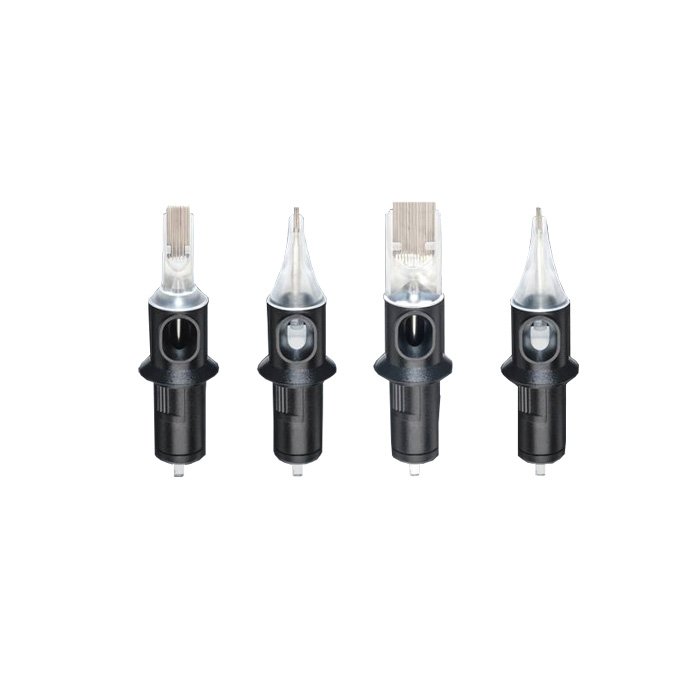 Cheyenne
Cheyenne Safety Cartridges Textured Bugpin Magnum Soft Edge
chey-7-bp-magnum-se
Type: Textured Bugpin Magnum Soft Edge (Curved)
Photo is for demonstrative purposes only. Only one configuration is included in a box.
With Cheyenne Safety cartridges, changing tattoo needles has never been easier, faster, safer and more hygienic. No more putting together different units for one customer, no more switching between liners and shaders. So much time saved and thus many more customers served. The needles run protected in a plastic housing, virtually eliminating accidental damage or injury. The patented safety membrane prevents blood and tattoo ink from getting into the grip. A 100% inspection by experienced experts in accordance with medical standards guarantees the highest quality.
Premium Needle Cartridges
Manufactured in Berlin, these German-Engineered premium cartridges, are made according to European safety standard with tips made from clear, sterilized medical grade plastic.
Patented Safety Membrane
The unique safety membrane protects against ink back flow, ensuring that no pigment can enter the motor and that no contaminated germs, viruses or bacteria can pass through the membrane.
Configuration Control
Changing needle configurations takes just a few seconds and the selection of needle configurations allows artists to take 100% control over their artists freedom during the running work process.
Reliable Quality
Each Cheyenne Safety Cartridge is inspected after assembly to ensure quality and performance that artists can rely on. Named for its sterilization and design, the Cheyenne Safety Cartridge features a shelf-life of up to 5 years.
PLEASE NOTE: No change has been made to the needles or configuration, only the name has changed. Refer to the factory model number (starts with "E-MC") if you are looking to repurchase the product as that text has not been altered.
Quick Order Form
Add multiple products and quantities below:
Cheyenne Safety Cartridges Liner
Cheyenne Safety Cartridges Liner -
1 / Liner / 10 Pack
$15.05
Cheyenne Safety Cartridges Liner -
11 / Liner / 10 Pack
$18.60
Cheyenne Bugpin Liner Safety Tattoo Cartridges
Cheyenne Bugpin Liner Safety Tattoo Cartridges -
3 / Bugpin Liner / 10 Pack
$18.60
Cheyenne Bugpin Liner Safety Tattoo Cartridges -
5 / Bugpin Liner / 10 Pack
$18.60
Cheyenne Bugpin Liner Safety Tattoo Cartridges -
7 / Bugpin Liner / 10 Pack
$18.60
Cheyenne Bugpin Liner Safety Tattoo Cartridges -
9 / Bugpin Liner / 10 Pack
$18.60
Cheyenne Safety Tattoo Cartridges - Magnum
Cheyenne Safety Tattoo Cartridges - Magnum -
5 / Magnum / 10 Pack
$18.60
Cheyenne Safety Tattoo Cartridges - Magnum -
9 / Magnum / 10 Pack
$18.60
Cheyenne Safety Tattoo Cartridges - Magnum -
13 / Magnum / 10 Pack
$18.60
Cheyenne Safety Tattoo Cartridges - Magnum -
15 / Magnum / 10 Pack
$15.92
Cheyenne Safety Tattoo Cartridges - Magnum -
17 / Magnum / 10 Pack
$15.92
Cheyenne Safety Cartridges Bugpin Magnum Soft Edge
Cheyenne Safety Cartridges Bugpin Magnum Soft Edge -
7 / Bugpin Magnum Soft Edge (Curved) / 10 Pack
$18.60
Cheyenne Safety Cartridges Bugpin Magnum Soft Edge -
23 / Bugpin Magnum Soft Edge (Curved) / 10 Pack
$18.60
Cheyenne Safety Cartridges Bugpin Magnum Soft Edge -
27 / Bugpin Magnum Soft Edge (Curved) / 10 Pack
$18.60
Cheyenne Safety Cartridges Bugpin Shader
Cheyenne Safety Cartridges Bugpin Shader -
7 / Bugpin Shader / 10 Pack
$18.60
Cheyenne Safety Cartridges Bugpin Shader -
9 / Bugpin Shader / 10 Pack
$18.60
Cheyenne Safety Cartridges Bugpin Shader -
13 / Bugpin Shader / 10 Pack
$15.93
Cheyenne Safety Cartridges Bugpin Shader -
15 / Bugpin Shader / 10 Pack
$18.60
Cheyenne Safety Cartridges Textured Bugpin Magnum Soft Edge
Cheyenne Safety Cartridges Textured Bugpin Magnum Soft Edge -
7 / Textured Bugpin Magnum Soft Edge (Curved) / 10 Pack
$18.60
Cheyenne Safety Cartridges Textured Bugpin Magnum Soft Edge -
9 / Textured Bugpin Magnum Soft Edge (Curved) / 10 Pack
$18.60
Cheyenne Safety Cartridges Textured Bugpin Magnum Soft Edge -
13 / Textured Bugpin Magnum Soft Edge (Curved) / 10 Pack
$15.49
Cheyenne Safety Cartridges Textured Bugpin Magnum Soft Edge -
15 / Textured Bugpin Magnum Soft Edge (Curved) / 10 Pack
$18.60
Cheyenne Safety Cartridges Textured Bugpin Magnum Soft Edge -
17 / Textured Bugpin Magnum Soft Edge (Curved) / 10 Pack
$18.60
Cheyenne Safety Cartridges Textured Bugpin Magnum Soft Edge -
23 / Textured Bugpin Magnum Soft Edge (Curved) / 10 Pack
$17.20
Cheyenne Safety Cartridges Textured Bugpin Magnum Soft Edge -
27 / Textured Bugpin Magnum Soft Edge (Curved) / 10 Pack
$18.07
Cheyenne Safety Cartridges Magnum Soft Edge
Cheyenne Safety Cartridges Magnum Soft Edge -
9 / Magnum Soft Edge (Curved) / 10 Pack
$18.60
Cheyenne Safety Cartridges Magnum Soft Edge -
13 / Magnum Soft Edge (Curved) / 10 Pack
$18.60
Cheyenne Safety Cartridges Magnum Soft Edge -
15 / Magnum Soft Edge (Curved) / 10 Pack
$18.60
Cheyenne Safety Cartridges Magnum Soft Edge -
17 / Magnum Soft Edge (Curved) / 10 Pack
$18.60
Cheyenne Safety Cartridges Bugpin Magnum
Cheyenne Safety Cartridges Bugpin Magnum -
7 / Bugpin Magnum / 10 Pack
$18.60
Cheyenne Safety Cartridges Bugpin Magnum -
23 / Bugpin Magnum / 10 Pack
$17.20
Cheyenne Safety Cartridges Bugpin Magnum -
27 / Bugpin Magnum / 10 Pack
$18.07
Cheyenne Safety Cartridges Textured Bugpin Liner
Cheyenne Safety Cartridges Textured Bugpin Liner -
3 / Textured Bugpin Liner / 10 Pack
$13.85
Cheyenne Safety Cartridges Textured Bugpin Liner -
5 / Textured Bugpin Liner / 10 Pack
$18.60
Cheyenne Safety Cartridges Textured Bugpin Liner -
7 / Textured Bugpin Liner / 10 Pack
$18.60
Cheyenne Safety Cartridges Textured Bugpin Liner -
9 / Textured Bugpin Liner / 10 Pack
$14.63
Cheyenne Safety Cartridges Shader
Cheyenne Safety Cartridges Shader -
11 / Shader / 10 Pack
$18.60
Cheyenne Safety Tattoo Cartridges - Power Liner
Cheyenne Safety Tattoo Cartridges - Power Liner -
7 / Power Liner / 10 Pack
$18.60
Cheyenne Safety Tattoo Cartridges - Power Liner -
9 / Power Liner / 10 Pack
$18.60
Cheyenne Safety Cartridge - Textured Magnum Soft Edge (Curved) - 20 Pack
Cheyenne Safety Cartridge - Textured Magnum Soft Edge (Curved) - 20 Pack -
Textured Magnum Soft Edge / 7 / 20 Pack
$38.40
Cheyenne Safety Cartridge - Textured Magnum Soft Edge (Curved) - 20 Pack -
Textured Magnum Soft Edge / 9 / 20 Pack
$40.80
Cheyenne Safety Cartridge - Textured Magnum Soft Edge (Curved) - 20 Pack -
Textured Magnum Soft Edge / 13 / 20 Pack
$42.00
Cheyenne Safety Cartridge - Textured Magnum Soft Edge (Curved) - 20 Pack -
Textured Magnum Soft Edge / 15 / 20 Pack
$44.40
Cheyenne Safety Cartridge - Textured Magnum Soft Edge (Curved) - 20 Pack -
Textured Magnum Soft Edge / 17 / 20 Pack
$44.40
Cheyenne Safety Cartridge - Textured Magnum Soft Edge (Curved) - 20 Pack -
Textured Magnum Soft Edge / 27 / 20 Pack
$50.40
Cheyenne Textured Liner Safety Tattoo Cartridges - 20 Pack
Cheyenne Textured Liner Safety Tattoo Cartridges - 20 Pack -
Textured Liner / 7 / 20 Pack
$35.20
Cheyenne Textured Liner Safety Tattoo Cartridges - 20 Pack -
Textured Liner / 11 / 20 Pack
$42.00
Cheyenne Textured Liner Safety Tattoo Cartridges - 20 Pack -
Textured Liner / 13 / 20 Pack
$43.20
Cheyenne Safety Cartridge - Shader - 20 Pack
Cheyenne Safety Cartridge - Shader - 20 Pack -
Shader / 7 / 20 Pack
$38.40
Cheyenne Safety Cartridge - Shader - 20 Pack -
Shader / 9 / 20 Pack
$40.80
Cheyenne Safety Cartridge - Shader - 20 Pack -
Shader / 11 / 20 Pack
$42.00
Cheyenne Safety Cartridge - Shader - 20 Pack -
Shader / 13 / 20 Pack
$43.20
Cheyenne Safety Cartridge - Shader - 20 Pack -
Shader / 15 / 20 Pack
$44.40
Cheyenne Safety Cartridge - Liner - 20 Pack
Cheyenne Safety Cartridge - Liner - 20 Pack -
Liner / 1 / 20 Pack
$42.00
Cheyenne Safety Cartridge - Liner - 20 Pack -
Liner / 3 / 20 Pack
$36.00
Cheyenne Safety Cartridge - Liner - 20 Pack -
Liner / 5 / 20 Pack
$37.20
Cheyenne Safety Cartridge - Liner - 20 Pack -
Liner / 7 / 20 Pack
$38.40
Cheyenne Safety Cartridge - Liner - 20 Pack -
Liner / 9 / 20 Pack
$40.80
Cheyenne Safety Cartridge - Liner - 20 Pack -
Liner / 11 / 20 Pack
$42.00
Cheyenne Safety Tattoo Cartridges - Power Liner - 20 Pack
Cheyenne Safety Tattoo Cartridges - Power Liner - 20 Pack -
Power Liner / 7 / 20 Pack
$38.40
Cheyenne Safety Tattoo Cartridges - Power Liner - 20 Pack -
Power Liner / 9 / 20 Pack
$40.80
Cheyenne Safety Cartridge - Bugpin Liner - 20 Pack
Cheyenne Safety Cartridge - Bugpin Liner - 20 Pack -
Bugpin Liner / 3 / 20 Pack
$36.00
Cheyenne Safety Cartridge - Bugpin Liner - 20 Pack -
Bugpin Liner / 5 / 20 Pack
$37.20
Cheyenne Safety Cartridge - Magnum - 20 Pack
Cheyenne Safety Cartridge - Magnum - 20 Pack -
Magnum / 5 / 20 Pack
$37.20
Cheyenne Safety Cartridge - Magnum - 20 Pack -
Magnum / 7 / 20 Pack
$38.40
Cheyenne Safety Cartridge - Magnum - 20 Pack -
Magnum / 9 / 20 Pack
$40.80
Cheyenne Safety Cartridge - Magnum - 20 Pack -
Magnum / 11 / 20 Pack
$42.00
Cheyenne Safety Cartridge - Magnum - 20 Pack -
Magnum / 13 / 20 Pack
$43.20
Cheyenne Safety Cartridge - Magnum - 20 Pack -
Magnum / 15 / 20 Pack
$44.40
Cheyenne Safety Cartridge - Magnum - 20 Pack -
Magnum / 17 / 20 Pack
$44.40
Cheyenne Safety Cartridge - Magnum - 20 Pack -
Magnum / 27 / 20 Pack
$50.40
Cheyenne Safety Cartridge - Magnum Soft Edge (Curved) - 20 Pack
Cheyenne Safety Cartridge - Magnum Soft Edge (Curved) - 20 Pack -
Magnum Soft Edge / 7 / 20 Pack
$38.40
Cheyenne Safety Cartridge - Magnum Soft Edge (Curved) - 20 Pack -
Magnum Soft Edge / 9 / 20 Pack
$40.80
Cheyenne Safety Cartridge - Magnum Soft Edge (Curved) - 20 Pack -
Magnum Soft Edge / 11 / 20 Pack
$42.00
Cheyenne Safety Cartridge - Magnum Soft Edge (Curved) - 20 Pack -
Magnum Soft Edge / 13 / 20 Pack
$42.00
Cheyenne Safety Cartridge - Magnum Soft Edge (Curved) - 20 Pack -
Magnum Soft Edge / 15 / 20 Pack
$44.40
Cheyenne Safety Cartridge - Magnum Soft Edge (Curved) - 20 Pack -
Magnum Soft Edge / 17 / 20 Pack
$44.40
Cheyenne Safety Cartridge - Magnum Soft Edge (Curved) - 20 Pack -
Magnum Soft Edge / 23 / 20 Pack
$48.00
Cheyenne Safety Cartridge - Magnum Soft Edge (Curved) - 20 Pack -
Magnum Soft Edge / 27 / 20 Pack
$50.40
Cheyenne Safety Cartridge - 5 Textured Magnum - 20 Pack
Cheyenne Safety Cartridge - 5 Textured Magnum - 20 Pack -
Textured Magnum / 5 / 20 Pack
$37.20