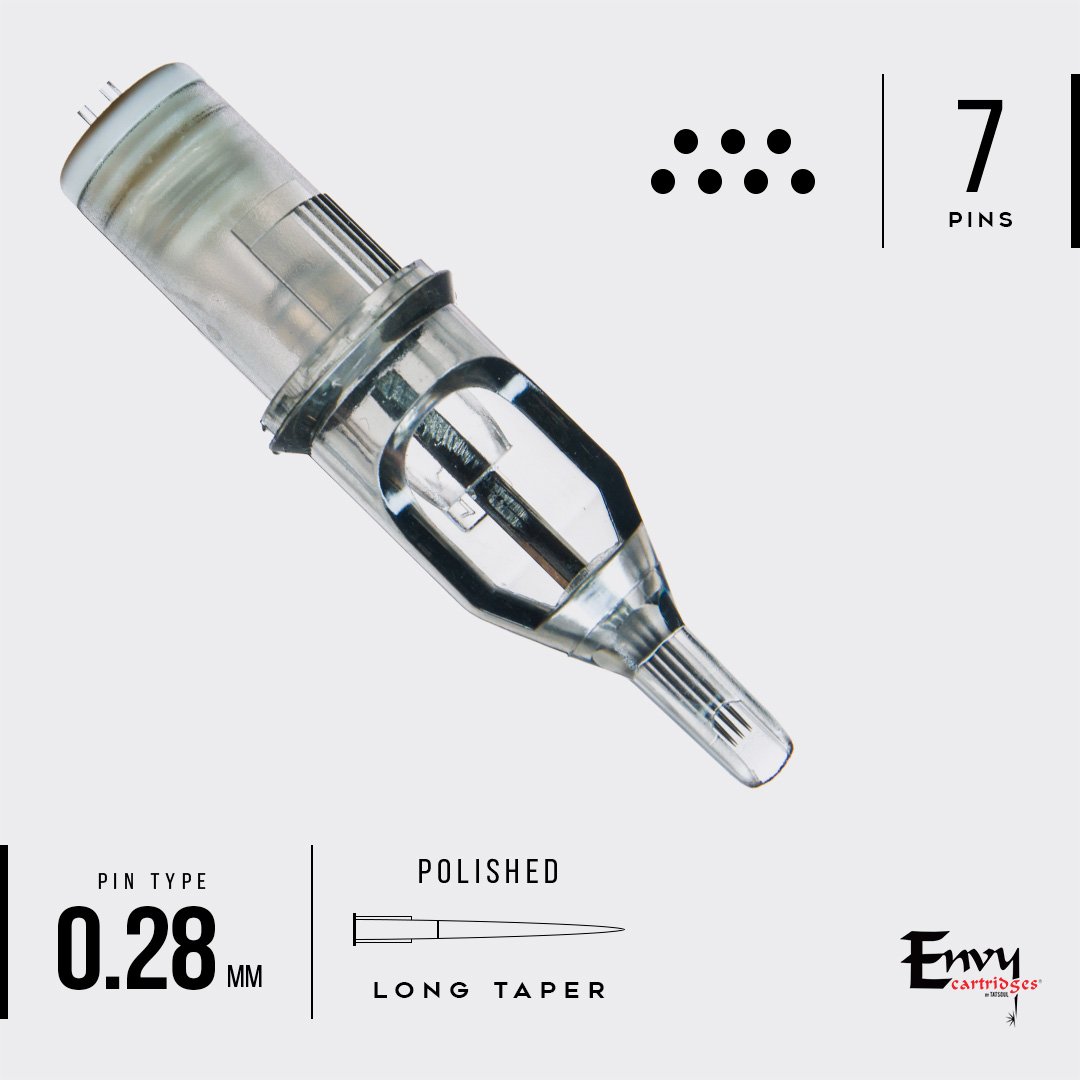 TATSoul
Envy Bugpin Cartridges Magnum
ec-0907m1
10 pcs/box - EO Sterilized
The most trusted needles in tattooing that you love are now available in cartridge form for your convenience! TATSoul's premium Envy Needles are over molded into the plunger which allows for maximum stability and control.  Each configuration is carefully designed to enhance ink flow and precision with each needle grouping.
Envy Needle Quality Process
Every Envy Needle must pass through multiple layers of meticulous inspections on dozens of metrics, as well as thorough artist testing to earn the name Envy.
Enhanced Inkflow
Additional indentation on tip allows for enhanced saturation.
Membrane Mechanism
Prevents ink spit back.
Plunger For Precision
One piece needle over mold provides stability and control.
Quick Order Form
Add multiple products and quantities below:
Envy Bugpin Cartridges Magnum
Envy Bugpin Cartridges Magnum -
7 / Magnum
$18.99
Envy Bugpin Cartridges Magnum -
9 / Magnum
$18.99
Envy Bugpin Cartridges Magnum -
11 / Magnum
$18.99
Envy Bugpin Cartridges Magnum -
13 / Magnum
$18.99
Envy Bugpin Cartridges Magnum -
17 / Magnum
$18.99
Envy Bugpin Cartridges Curved Magnum
Envy Bugpin Cartridges Curved Magnum -
7 / Curved Magnum
$18.99
Envy Bugpin Cartridges Curved Magnum -
9 / Curved Magnum
$18.99
Envy Bugpin Cartridges Curved Magnum -
13 / Curved Magnum
$18.99
Envy Bugpin Cartridges Curved Magnum -
15 / Curved Magnum
$18.99
Envy Bugpin Cartridges Curved Magnum -
17 / Curved Magnum
$18.99
Envy Bugpin Cartridges Curved Magnum -
11 / Curved Magnum
$18.99
Envy Bugpin Cartridges Round Liner
Envy Bugpin Cartridges Round Liner -
1-08 / Round Liner
$9.49
Envy Bugpin Cartridges Round Liner -
1-10 / Round Liner
$9.49
Envy Bugpin Cartridges Round Liner -
3 / Round Liner
$18.99
Envy Bugpin Cartridges Round Liner -
5 / Round Liner
$18.99
Envy Bugpin Cartridges Round Liner -
7 / Round Liner
$18.99
Envy Bugpin Cartridges Round Liner -
8 / Round Liner
$18.99
Envy Bugpin Cartridges Round Liner -
9 / Round Liner
$18.99
Envy Bugpin Cartridges Round Liner -
14 / Round Liner
$18.99
Envy Bugpin Cartridges Round Liner -
18 / Round Liner
$18.99