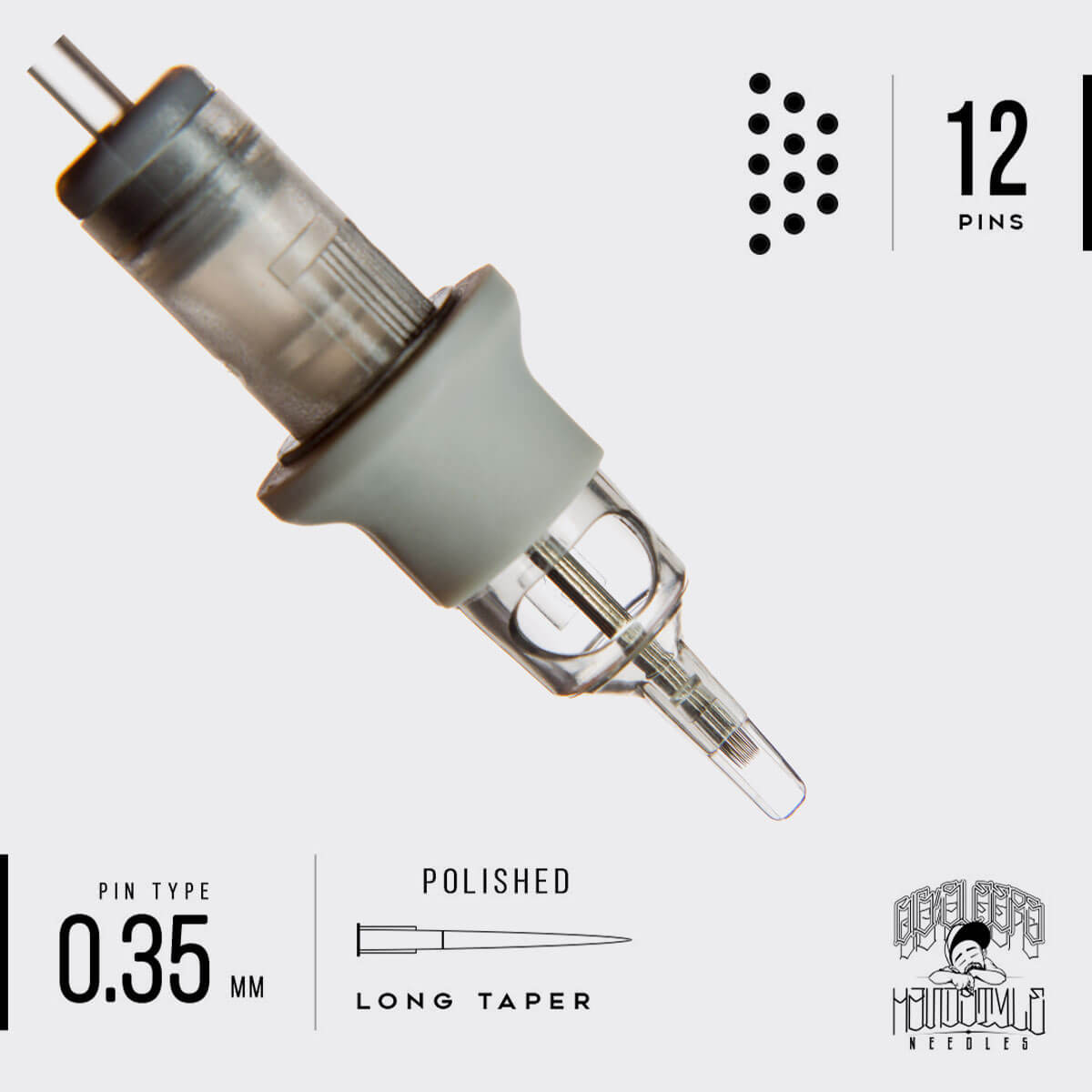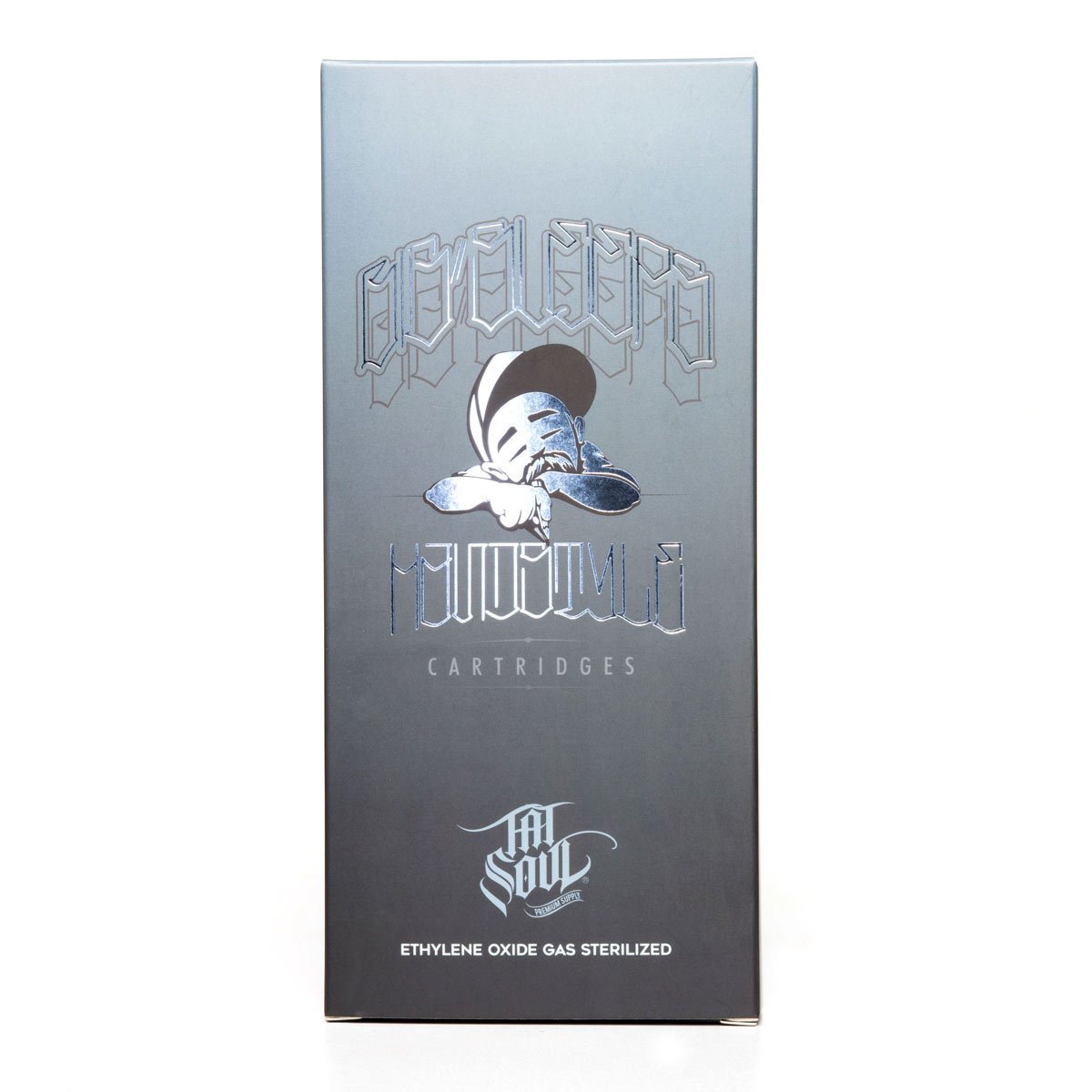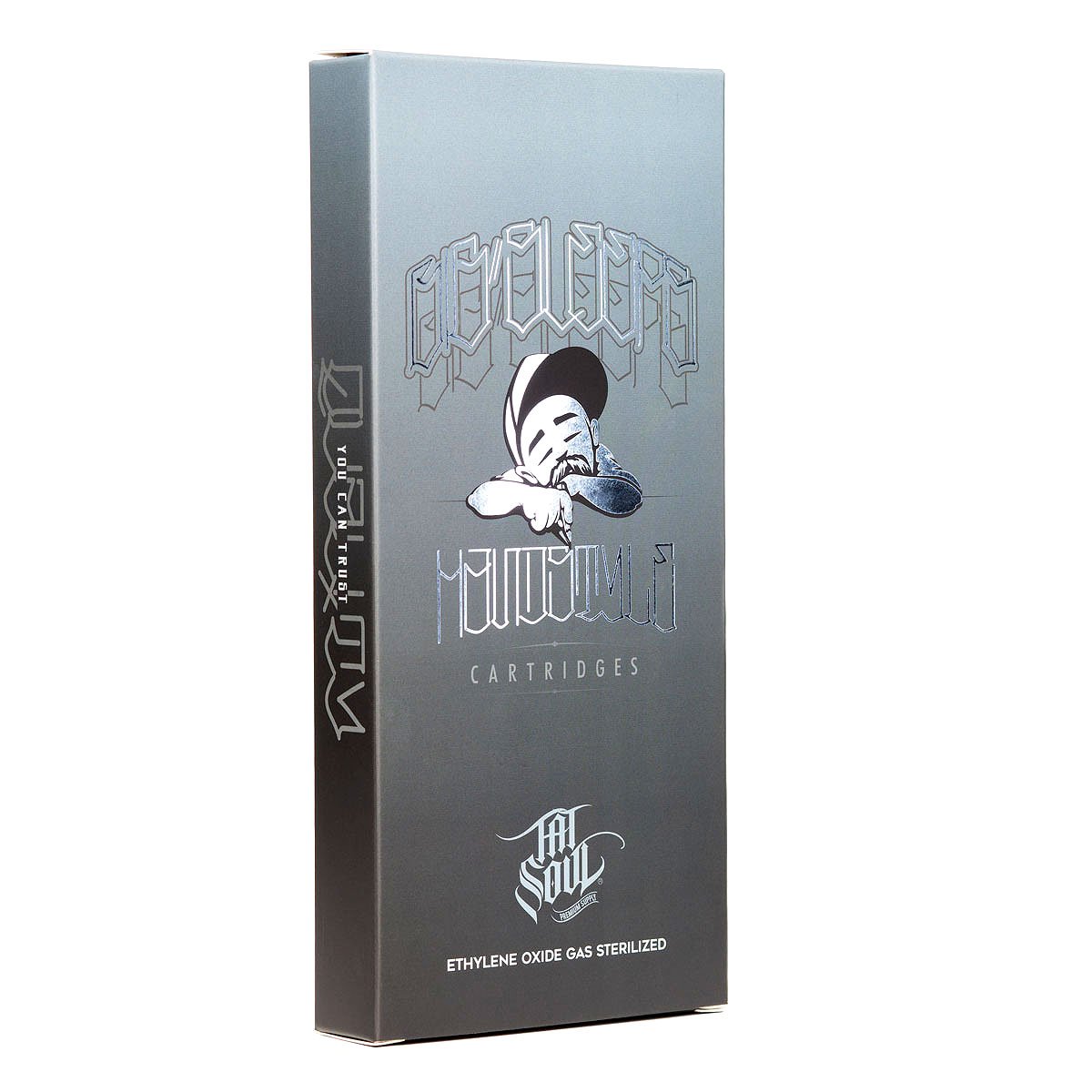 TATSoul
Envy Gen 2 - Big Sleeps Flat Chisel Magnum Tattoo Cartridges
EG2C-BS-1212M3
Big Sleeps, the internationally renowned West Coast master of lettering, has partnered with TATSoul to create his own line of needles designed for the fine lines of custom letter work. These needles are specifically designed for handstyle work and other lettering techniques. Available in different Envy Gen2 Cartridge groupings: Flat Chisel Magnum (long taper), Script Hollow (extra-long taper), and Extra Tight Round Liners (long taper).
Perfect Needle Taper & Membrane Tension
Measured and stress-tested for superior durability and unparalleled performance designed to prevent ink spit back.
Thin Profile
Increase precision with enhanced needle visibility designed to allows close contact with skin.
Cartridge Finger Ledge
A unique and industry-first feature, the cartridge finger ledge provides the perfect place to rest your finger while working.
Quality Process
Envy has the highest standard QC process in the industry. Each needle must undergo a thorough 30-point inspection process before it can earn the Envy name.
Quick Order Form
Add multiple products and quantities below:
Envy Gen 2 Cartridges - Big Sleeps Extra Tight Liner (10 Pack)
Envy Gen 2 Cartridges - Big Sleeps Extra Tight Liner (10 Pack) -
5 / Extra Tight Liner
$21.99
Envy Gen 2 Cartridges - Big Sleeps Extra Tight Liner (10 Pack) -
7 / Extra Tight Liner
$21.99
Envy Gen 2 - Big Sleeps Extra Tight Liner Tattoo Cartridges
Envy Gen 2 - Big Sleeps Extra Tight Liner Tattoo Cartridges -
5 / Extra Tight Liner
$39.99
Envy Gen 2 - Big Sleeps Extra Tight Liner Tattoo Cartridges -
7 / Extra Tight Liner
$39.99
Envy Gen 2 - Big Sleeps Script Hollow Tattoo Cartridges
Envy Gen 2 - Big Sleeps Script Hollow Tattoo Cartridges -
10 / Script Hollow
$21.99
Envy Gen 2 - Big Sleeps Script Hollow Tattoo Cartridges -
12 / Script Hollow
$21.99
Envy Gen 2 - Big Sleeps Script Hollow Tattoo Cartridges -
14 / Script Hollow
$21.99
Envy Gen 2 - Big Sleeps Script Hollow Tattoo Cartridges -
18 / Script Hollow
$21.99
Envy Gen 2 - Big Sleeps Script Hollow Tattoo Cartridges 20pk
Envy Gen 2 - Big Sleeps Script Hollow Tattoo Cartridges 20pk -
10 / Script Hollow
$39.99
Envy Gen 2 - Big Sleeps Script Hollow Tattoo Cartridges 20pk -
12 / Script Hollow
$39.99
Envy Gen 2 - Big Sleeps Script Hollow Tattoo Cartridges 20pk -
14 / Script Hollow
$39.99
Envy Gen 2 - Big Sleeps Script Hollow Tattoo Cartridges 20pk -
18 / Script Hollow
$39.99
Envy Gen 2 - Big Sleeps Flat Chisel Magnum Tattoo Cartridges
Envy Gen 2 - Big Sleeps Flat Chisel Magnum Tattoo Cartridges -
12 / Flat Chisel Magnum
$21.99
Envy Gen 2 - Big Sleeps Flat Chisel Magnum Tattoo Cartridges -
18 / Flat Chisel Magnum
$21.99
Envy Gen 2 - Big Sleeps Flat Chisel Magnum Tattoo Cartridges -
24 / Flat Chisel Magnum
$21.99
Envy Gen 2 - Big Sleeps Flat Chisel Magnum Cartridges 20pk
Envy Gen 2 - Big Sleeps Flat Chisel Magnum Cartridges 20pk -
12 / Flat Chisel Magnum
$39.99
Envy Gen 2 - Big Sleeps Flat Chisel Magnum Cartridges 20pk -
18 / Flat Chisel Magnum
$39.99
Envy Gen 2 - Big Sleeps Flat Chisel Magnum Cartridges 20pk -
24 / Flat Chisel Magnum
$39.99