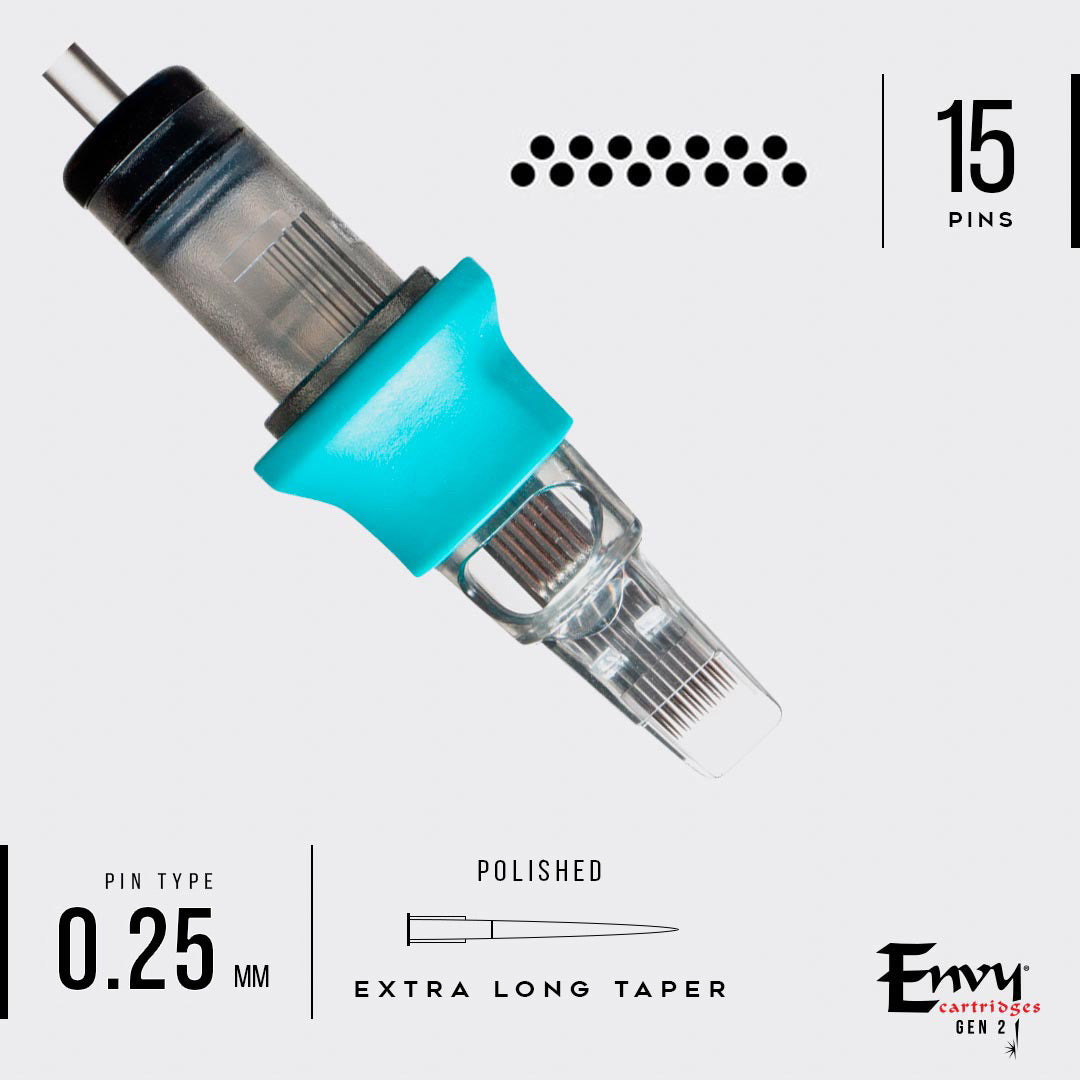 TATSoul
Envy Gen 2 - Extra Long Taper Magnum Tattoo Cartridges
2XECLT-G2-0815M1
Building on the foundation of the game-changing, tried-and-true Envy Cartridges, the Envy Gen 2 Cartridge features the industry's first finger ledge; providing a level of comfort and control never before seen in a needle cartridge. Made with the same outstanding quality that artists have come to trust from TATSoul, Gen 2 Cartridges feature the artist-tested, signature Envy Needle pins and configurations that you know and love.

Shop the full line of Standard Envy Gen 2 carts today!
Artist Approved
Artists drive our innovation and Tatsoul puts artist feedback into all of our product designs
Perfect Needle Taper
Envy cartridge needles are perfectly shaped and they offer a configuration for every need
Quality Process
Envy has the highest standard QC process in the industry. Each needle must undergo a thorough 30 point inspection process before it can earn the Envy name
Cartridge Finger Ledge
A unique and industry-first feature, the cartridge finger ledge gives you the perfect place to rest your finger while working
Safety is our priority! Envy Gen 2 Cartridges proudly uses silicone membrane technology to prevent ink backflow into the motor housing of tattoo machines for a safe and hygienic environment.
Quick Order Form
Add multiple products and quantities below:
Envy Gen 2- Extra Long Taper Magnum Tattoo Cartridges (10pk)
Envy Gen 2- Extra Long Taper Magnum Tattoo Cartridges (10pk) -
7 / 08/0.25mm / Magnum
$21.99
Envy Gen 2- Extra Long Taper Magnum Tattoo Cartridges (10pk) -
7 / 10/0.30mm / Magnum
$21.99
Envy Gen 2- Extra Long Taper Magnum Tattoo Cartridges (10pk) -
9 / 08/0.25mm / Magnum
$21.99
Envy Gen 2- Extra Long Taper Magnum Tattoo Cartridges (10pk) -
9 / 10/0.30mm / Magnum
$21.99
Envy Gen 2- Extra Long Taper Magnum Tattoo Cartridges (10pk) -
11 / 08/0.25mm / Magnum
$21.99
Envy Gen 2- Extra Long Taper Magnum Tattoo Cartridges (10pk) -
11 / 10/0.30mm / Magnum
$21.99
Envy Gen 2- Extra Long Taper Magnum Tattoo Cartridges (10pk) -
13 / 08/0.25mm / Magnum
$21.99
Envy Gen 2- Extra Long Taper Magnum Tattoo Cartridges (10pk) -
15 / 08/0.25mm / Magnum
$21.99
Envy Gen 2- Extra Long Taper Magnum Tattoo Cartridges (10pk) -
17 / 08/0.25mm / Magnum
$21.99
Envy Gen 2- Extra Long Taper Magnum Tattoo Cartridges (10pk) -
19 / 12/0.35mm / Magnum
$21.99
Envy Gen 2- Extra Long Taper Magnum Tattoo Cartridges (10pk) -
21 / 12/0.35mm / Magnum
$21.99
Envy Gen 2 - Extra Long Taper Magnum Tattoo Cartridges
Envy Gen 2 - Extra Long Taper Magnum Tattoo Cartridges -
7 / 08/0.25mm / Magnum
$39.99
Envy Gen 2 - Extra Long Taper Magnum Tattoo Cartridges -
9 / 08/0.25mm / Magnum
$39.99
Envy Gen 2 - Extra Long Taper Magnum Tattoo Cartridges -
11 / 08/0.25mm / Magnum
$39.99
Envy Gen 2 - Extra Long Taper Magnum Tattoo Cartridges -
13 / 08/0.25mm / Magnum
$39.99
Envy Gen 2 - Extra Long Taper Magnum Tattoo Cartridges -
15 / 08/0.25mm / Magnum
$39.99
Envy Gen 2 - Extra Long Taper Magnum Tattoo Cartridges -
17 / 08/0.25mm / Magnum
$39.99
Envy Gen 2 - Extra Long Taper Magnum Tattoo Cartridges -
7 / 10/0.30mm / Magnum
$39.99
Envy Gen 2 - Extra Long Taper Magnum Tattoo Cartridges -
9 / 10/0.30mm / Magnum
$39.99
Envy Gen 2 - Extra Long Taper Magnum Tattoo Cartridges -
11 / 10/0.30mm / Magnum
$39.99
Envy Gen 2 - Extra Long Taper Magnum Tattoo Cartridges -
19 / 12/0.35mm / Magnum
$39.99
Envy Gen 2 - Extra Long Taper Magnum Tattoo Cartridges -
21 / 12/0.35mm / Magnum
$39.99