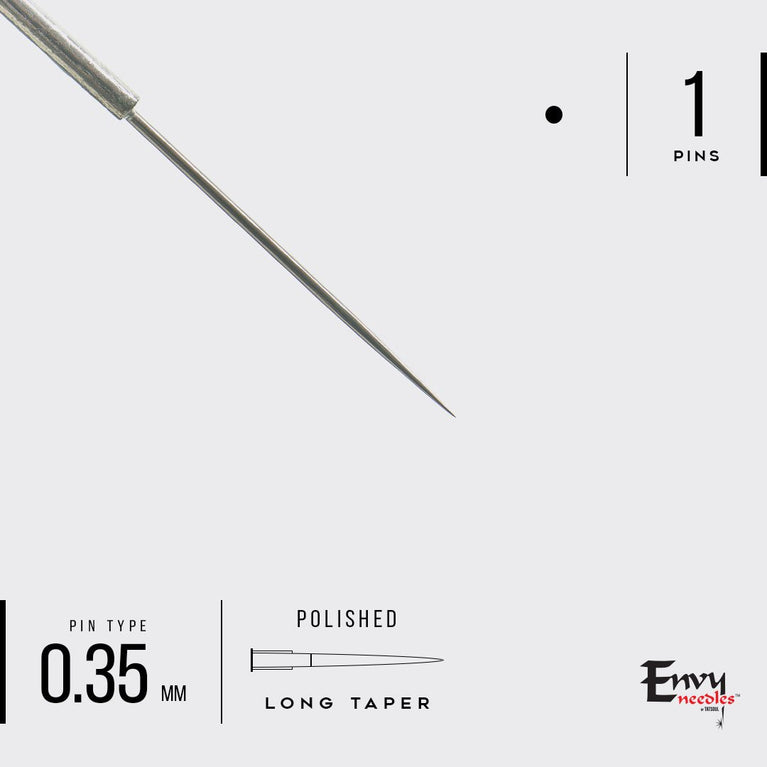 TATSoul
Envy Standard Round Liner Tattoo Needles
1201RLB
TATSoul wanted to give artists a pre-made tattoo needle unlike any other in the market. After rigorous innovation and design, our high-quality pre-made tattoo needles became popular for their multi-layer inspection which lead to super consistent needles and minimal waste.
Artist Approved
Quality
Pre-Check
Consistent Groupings
Lead Free Solder
AVAILABLE IN:
STANDARD
BUGPIN
TEXTURED
HOLLOW
TRADITIONAL
Envy Standard Round Liner Tattoo Needles - 1 / Round Liner
has a rating of
5.0
stars based on
4
reviews.
Quick Order Form
Add multiple products and quantities below:
Envy Needles by TATSoul - Extra Tight Round Liners
Envy Needles by TATSoul - Extra Tight Round Liners -
3 / Extra Tight Round Liner
$11.99
Envy Needles by TATSoul - Extra Tight Round Liners -
5 / Extra Tight Round Liner
$15.99
Envy Needles by TATSoul - Extra Tight Round Liners -
7 / Extra Tight Round Liner
$17.99
Envy Needles by TATSoul - Round Shaders
Envy Needles by TATSoul - Round Shaders -
8 / Round Shader
$17.99
Envy Needles by TATSoul - Round Shaders -
14 / Round Shader
$22.99
Envy Needles by TATSoul - Round Shaders -
18 / Round Shader
$23.99
Envy Needles by TATSoul - Round Shaders -
3 / Round Shader
$17.99
Envy Needles by TATSoul - Round Shaders -
5 / Round Shader
$17.99
Envy Needles by TATSoul - Round Shaders -
11 / Round Shader
$22.99
Envy Needles by TATSoul - Magnum
Envy Needles by TATSoul - Magnum -
5 / Magnum
$16.99
Envy Needles by TATSoul - Magnum -
7 / Magnum
$16.99
Envy Needles by TATSoul - Magnum -
9 / Magnum
$18.99
Envy Needles by TATSoul - Magnum -
11 / Magnum
$20.99
Envy Needles by TATSoul - Magnum -
13 / Magnum
$23.99
Envy Needles by TATSoul - Magnum -
15 / Magnum
$23.99
Envy Needles by TATSoul - Magnum -
23 / Magnum
$17.99
Envy Needles by TATSoul - Magnum -
25 / Magnum
$18.99
Envy Needles by TATSoul - Magnum -
29 / Magnum
$18.99
Envy Needles by TATSoul - Magnum -
39 / Magnum
$22.99
Envy Standard Round Liner Tattoo Needles
Envy Standard Round Liner Tattoo Needles -
1 / Round Liner
$11.99
Envy Standard Round Liner Tattoo Needles -
3 / Round Liner
$11.99
Envy Standard Round Liner Tattoo Needles -
4 / Round Liner
$4.60
Envy Standard Round Liner Tattoo Needles -
5 / Round Liner
$15.99
Envy Standard Round Liner Tattoo Needles -
8 / Round Liner
$17.99
Envy Standard Round Liner Tattoo Needles -
14 / Round Liner
$22.99
Envy Standard Round Liner Tattoo Needles -
7 / Round Liner
$17.99
Envy Standard Round Liner Tattoo Needles -
9 / Round Liner
$18.99
Envy Standard Round Liner Tattoo Needles -
11 / Round Liner
$22.99
Envy Needles by TATSoul - Curved Magnum
Envy Needles by TATSoul - Curved Magnum -
5 / Curved Magnum
$17.99
Envy Needles by TATSoul - Curved Magnum -
7 / Curved Magnum
$17.99
Envy Needles by TATSoul - Curved Magnum -
9 / Curved Magnum
$22.99
Envy Needles by TATSoul - Curved Magnum -
11 / Curved Magnum
$23.99
Envy Needles by TATSoul - Curved Magnum -
13 / Curved Magnum
$24.99
Envy Needles by TATSoul - Curved Magnum -
15 / Curved Magnum
$24.99
Envy Needles by TATSoul - Curved Magnum -
23 / Curved Magnum
$17.99
Envy Needles by TATSoul - Curved Magnum -
25 / Curved Magnum
$18.99
Envy Needles by TATSoul - Curved Magnum -
29 / Curved Magnum
$18.99
Envy Needles by TATSoul - Curved Magnum -
39 / Curved Magnum
$22.99
Envy Needles by TATSoul - Curved Magnum -
45 / Curved Magnum
$27.99
Envy Needles by TATSoul - Curved Magnum -
49 / Curved Magnum
$27.99