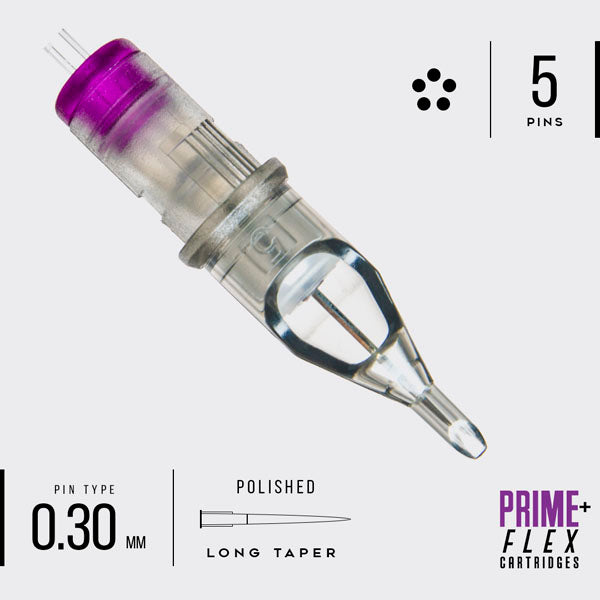 Prime
Prime+ Flex Bugpin Cartridges Round Shader
PRF-1005RS
The Prime+ Flex Cartridge was created to provide tattoo artists around the world with professional grade supplies at affordable prices. The products artists use play an important role in the results of their tattooing. PRIME is committed to providing high quality supplies for tattooing, without cutting corners and at a competitive price.
Professional Grade Supplies
Everything you loved about Prime Tech Cartridges, now with top quality polished long taper needles and clear transparent housing for total visibility.
Affordable Price-point
Prime+ proves that you don't have to sacrifice quality for an affordable needle cartridge.
Uncompromising Safety
PRIME goal is to provide all levels of artists with safe and premium supplies they can rely on, so these cartridges are made with clear, medical grade plastic that is EO sterilized.
New Rubber Band System
The Prime+ Flex Cartridge features improved Prime Needles and configurations in a new rubber band system, allowing for the perfect amount of tension and needle to tip glide which results in maximum consistency and performance for every tattoo.
Quick Order Form
Add multiple products and quantities below:
Prime+ Flex Bugpin Cartridges Round Shader
Prime+ Flex Bugpin Cartridges Round Shader -
5 / Round Shader
$9.99
Prime+ Flex Bugpin Cartridges Round Shader -
7 / Round Shader
$9.99
Prime+ Flex Bugpin Cartridges Round Shader -
8 / Round Shader
$9.99
Prime+ Flex Bugpin Cartridges Round Shader -
9 / Round Shader
$9.99
Prime+ Flex Bugpin Cartridges Round Shader -
11 / Round Shader
$9.99
Prime+ Flex Bugpin Cartridges Round Shader -
14 / Round Shader
$9.99
Prime+ Flex Bugpin Cartridges Round Shader -
18 / Round Shader
$9.99
Prime+ Flex Bugpin Cartridges Curved Magnum
Prime+ Flex Bugpin Cartridges Curved Magnum -
5 / Curved Magnum
$9.99
Prime+ Flex Bugpin Cartridges Curved Magnum -
7 / Curved Magnum
$9.99
Prime+ Flex Bugpin Cartridges Curved Magnum -
9 / Curved Magnum
$9.99
Prime+ Flex Bugpin Cartridges Curved Magnum -
11 / Curved Magnum
$9.99
Prime+ Flex Bugpin Cartridges Curved Magnum -
13 / Curved Magnum
$9.99
Prime+ Flex Bugpin Cartridges Curved Magnum -
15 / Curved Magnum
$9.99
Prime+ Flex Bugpin Cartridges Curved Magnum -
17 / Curved Magnum
$9.99
Prime+ Flex Bugpin Cartridges Curved Magnum -
19 / Curved Magnum
$9.99
Prime+ Flex Bugpin Cartridges Curved Magnum -
21 / Curved Magnum
$9.99
Prime+ Flex Bugpin Cartridges Curved Magnum -
23 / Curved Magnum
$9.99
Prime+ Flex Bugpin Cartridges Curved Magnum -
25 / Curved Magnum
$9.99
Prime+ Flex Bugpin Cartridges Curved Magnum -
27 / Curved Magnum
$9.99
Prime+ Flex Bugpin Cartridges Magnum
Prime+ Flex Bugpin Cartridges Magnum -
5 / Magnum
$9.99
Prime+ Flex Bugpin Cartridges Magnum -
7 / Magnum
$9.99
Prime+ Flex Bugpin Cartridges Magnum -
9 / Magnum
$9.99
Prime+ Flex Bugpin Cartridges Magnum -
11 / Magnum
$9.99
Prime+ Flex Bugpin Cartridges Magnum -
13 / Magnum
$9.99
Prime+ Flex Bugpin Cartridges Magnum -
15 / Magnum
$9.99
Prime+ Flex Bugpin Cartridges Magnum -
17 / Magnum
$9.99
Prime+ Flex Bugpin Cartridges Magnum -
19 / Magnum
$9.99
Prime+ Flex Bugpin Cartridges Magnum -
21 / Magnum
$9.99
Prime+ Flex Bugpin Cartridges Magnum -
23 / Magnum
$9.99
Prime+ Flex Bugpin Cartridges Magnum -
25 / Magnum
$9.99
Prime+ Flex Bugpin Cartridges Magnum -
27 / Magnum
$9.99
Prime+ Flex Bugpin Cartridges Round Liner
Prime+ Flex Bugpin Cartridges Round Liner -
1 / Round Liner
$9.99
Prime+ Flex Bugpin Cartridges Round Liner -
3 / Round Liner
$9.99
Prime+ Flex Bugpin Cartridges Round Liner -
5 / Round Liner
$9.99
Prime+ Flex Bugpin Cartridges Round Liner -
7 / Round Liner
$9.99
Prime+ Flex Bugpin Cartridges Round Liner -
8 / Round Liner
$9.99
Prime+ Flex Bugpin Cartridges Round Liner -
9 / Round Liner
$9.99
Prime+ Flex Bugpin Cartridges Round Liner -
11 / Round Liner
$9.99
Prime+ Flex Bugpin Cartridges Round Liner -
14 / Round Liner
$9.99
Prime+ Flex Bugpin Cartridges Round Liner -
18 / Round Liner
$9.99