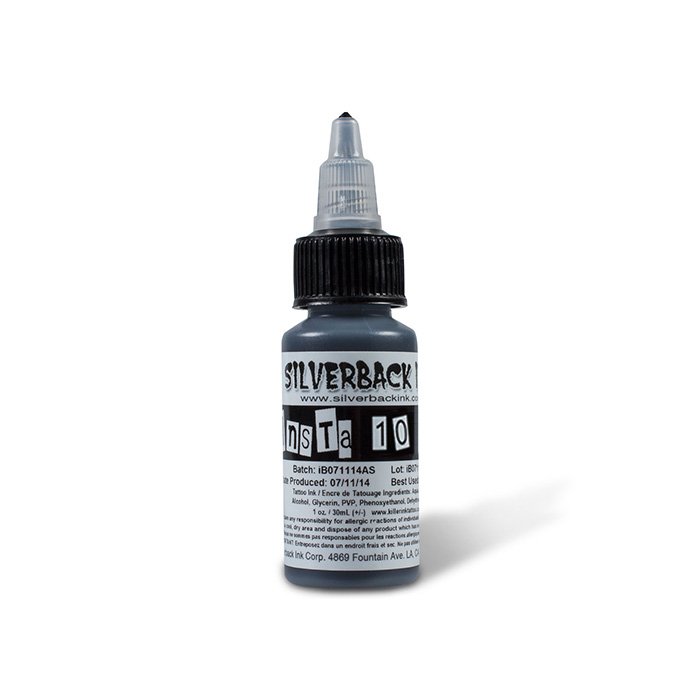 Silverback Ink - Insta10shade Grey Wash Series iG10 - 1oz Bottle
-
The Insta10Shade Grey Wash Series
is precisely blended to produce distinct, consistent shades time after time.
- Insta 1 being the lightest and Insta 10 the darkest (one shade lighter than InstaBlack).
- Take the guesswork out of mixing your own.
- Experience closer healing shades with less "heal out".
- Goes into the skin as easily as it wipes off.
- Processed in a sterile facility.
- Tested and certified for the EU.
- Packaged with a 100% tamper evident seal.
- Made in USA.
- By a tattooer for tattooers!!
Quick Order Form
Add multiple products and quantities below:
Silverback Ink - Insta10shade Grey Wash Series ig1
Silverback Ink - Insta10shade Grey Wash Series ig1 -
1 oz / ig1
$6.90
Silverback Ink - Insta10shade Grey Wash Series ig1 -
4 oz / ig1
$19.55
Silverback Ink - Insta10shade Grey Wash Series ig3
Silverback Ink - Insta10shade Grey Wash Series ig3 -
1 oz / ig3
$6.90
Silverback Ink - Insta10shade Grey Wash Series ig3 -
4 oz / ig3
$19.55
Silverback Ink - Insta10shade Grey Wash Series ig8
Silverback Ink - Insta10shade Grey Wash Series ig8 -
1 oz / ig8
$6.90
Silverback Ink - Insta10shade Grey Wash Series ig8 -
4 oz / ig8
$19.55
Silverback Ink - Insta10shade Grey Wash Series ig4
Silverback Ink - Insta10shade Grey Wash Series ig4 -
1 oz / ig4
$6.90
Silverback Ink - Insta10shade Grey Wash Series ig4 -
4 oz / ig4
$19.55
Silverback Ink - Insta10shade Grey Wash Series ig2
Silverback Ink - Insta10shade Grey Wash Series ig2 -
1 oz / ig2
$6.90
Silverback Ink - Insta10shade Grey Wash Series ig2 -
4 oz / ig2
$19.55
Silverback Ink - Insta10shade Grey Wash Series ig6
Silverback Ink - Insta10shade Grey Wash Series ig6 -
1 oz / ig6
$6.90
Silverback Ink - Insta10shade Grey Wash Series ig6 -
4 oz / ig6
$19.55
Silverback Ink - Insta10shade Grey Wash Series ig9
Silverback Ink - Insta10shade Grey Wash Series ig9 -
1 oz / ig9
$6.90
Silverback Ink - Insta10shade Grey Wash Series ig9 -
4 oz / ig9
$19.55
Silverback Ink - Insta10shade Grey Wash Series ig5
Silverback Ink - Insta10shade Grey Wash Series ig5 -
1 oz / ig5
$6.90
Silverback Ink - Insta10shade Grey Wash Series ig5 -
4 oz / ig5
$19.55
Silverback Ink - Insta10shade Grey Wash Series ig10
Silverback Ink - Insta10shade Grey Wash Series ig10 -
1 oz / ig10
$9.00
Silverback Ink - Insta10shade Grey Wash Series ig10 -
4 oz / ig10
$19.55
Silverback Ink - Insta10shade Grey Wash Series ig7
Silverback Ink - Insta10shade Grey Wash Series ig7 -
1 oz / ig7
$6.90
Silverback Ink - Insta10shade Grey Wash Series ig7 -
4 oz / ig7
$19.55