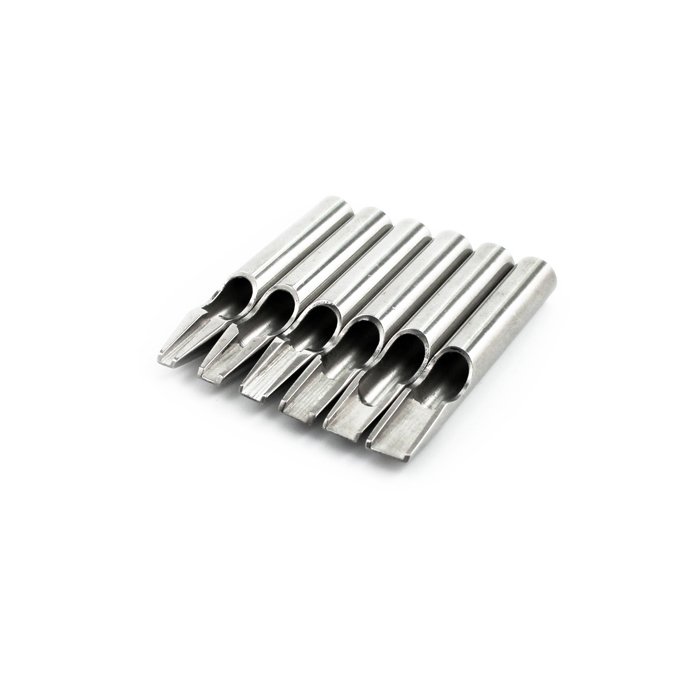 TATSoul
Standard Stainless Steel Tips Magnum
std-tip-5f
All stainless steel tips are machined from surgical 304 stainless steel. Tips, grips, tube stems are each sold separately and can be interchangeable. It is recommended that all three pieces (tips, grips, tube stems) be removed for cleaning and sterilization.
Specifications:
Autoclavable
Machined from solid 304 stainless steel
Please note: This product includes ONE tip.
Quick Order Form
Add multiple products and quantities below:
Standard Stainless Steel Tips Round
Standard Stainless Steel Tips Round -
3 / Round
$5.00
Standard Stainless Steel Tips Round -
5 / Round
$2.99
Standard Stainless Steel Tips Round -
7 / Round
$5.00
Standard Stainless Steel Tips Round -
9 / Round
$2.99
Standard Stainless Steel Tips Round -
14 / Round
$2.99
Standard Stainless Steel Tips Magnum
Standard Stainless Steel Tips Magnum -
5 / Magnum
$5.00
Standard Stainless Steel Tips Magnum -
7 / Magnum
$5.00
Standard Stainless Steel Tips Magnum -
9 / Magnum
$5.00
Standard Stainless Steel Tips Magnum -
11 / Magnum
$5.00
Standard Stainless Steel Tips Magnum -
13 / Magnum
$5.00
Standard Stainless Steel Tips Magnum -
15 / Magnum
$2.99
Standard Stainless Steel Tips Diamond
Standard Stainless Steel Tips Diamond -
3 / Diamond
$5.00
Standard Stainless Steel Tips Diamond -
5 / Diamond
$2.99
Standard Stainless Steel Tips Diamond -
7 / Diamond
$5.00
Standard Stainless Steel Tips Diamond -
8 / Diamond
$5.00
Standard Stainless Steel Tips Diamond -
9 / Diamond
$5.00
Standard Stainless Steel Tips Diamond -
11 / Diamond
$2.99
Standard Stainless Steel Tips Diamond -
14 / Diamond
$2.99