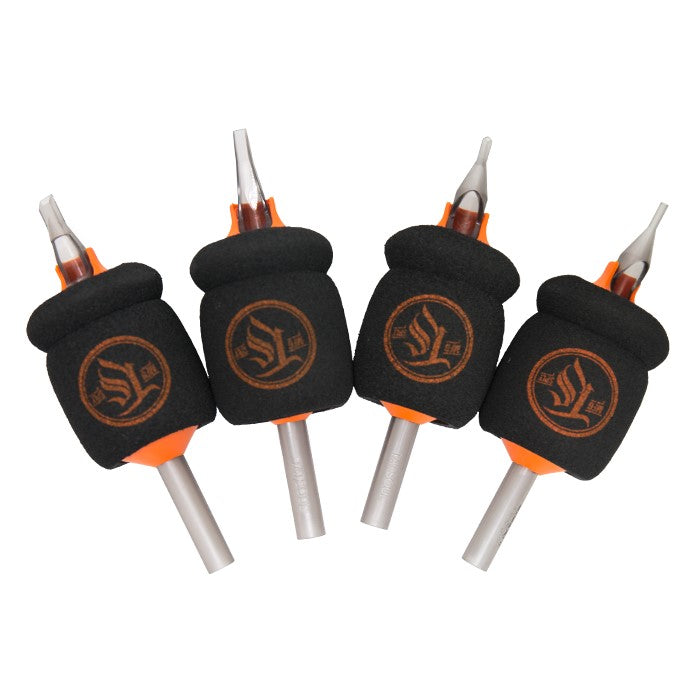 TATSoul
Wrath Foam Tattoo Tubes - Diamond
FOA-1.5-3D-15
15 pcs/box individually packaged 1.50" tubes
The most comfortable and highest quality disposable tube in tattooing— Now available in FOAM! Wrath Foam Disposable Tubes have been ergonomically designed for comfort and performance and feature a foam grip pre-secured to the tube. The silicone grip with added foam is optimal for absorbing vibration. Experience the same Nexus extended finger contour that improves control by allowing you to get closer to the skin. Our precision tip design provides unparalleled needle visibility and optimal ink flow.
Comfortable Foam Grip
An ergonomic foam grip reinforced with silicone provides superior comfort and minimizes excessive vibration.
Improved Semi Transparent Tip
Each Wrath Nexus Tube is developed with a smoke-colored, semi-transparent tint, which promotes greater ink flow visibility within the tube reservoir. An improved tip design puts the Wrath Nexus in its own class – providing maximum needle visibility, optimized ink flow and long-standing durability.
Finger Contour
A unique, ergonomic extended finger contour is employed at the front of the Nexus grip – providing improved control and comfort while letting the artist get closer to the skin.
Precision Molding
Like all Wrath Tubes, Nexus Premium Disposable Tubes are designed with precise injection molding technology, thus producing maximum ink-flow, consistent needle support, improved ink flow and favorable needle visibility. And our Nexus grips are molded directly on the tube, which prevents 'spinning' during the tattoo process.
Quick Order Form
Add multiple products and quantities below:
Wrath Foam Tattoo Tubes - Angled Round
Wrath Foam Tattoo Tubes - Angled Round -
3 / 1.5in / Angled Round
$27.99
Wrath Foam Tattoo Tubes - Angled Round -
5 / 1.5in / Angled Round
$27.99
Wrath Foam Tattoo Tubes - Angled Round -
7 / 1.5in / Angled Round
$27.99
Wrath Foam Tattoo Tubes - Angled Round -
9 / 1.5in / Angled Round
$27.99
Wrath Foam Tattoo Tubes - Angled Round -
11 / 1.5in / Angled Round
$27.99
Wrath Foam Tattoo Tubes - Angled Round -
14 / 1.5in / Angled Round
$27.99
Wrath Foam Tattoo Tubes - Open Magnum
Wrath Foam Tattoo Tubes - Open Magnum -
5 / 1.5in / Open Magnum
$27.99
Wrath Foam Tattoo Tubes - Open Magnum -
7 / 1.5in / Open Magnum
$27.99
Wrath Foam Tattoo Tubes - Open Magnum -
9 / 1.5in / Open Magnum
$27.99
Wrath Foam Tattoo Tubes - Open Magnum -
11 / 1.5in / Open Magnum
$27.99
Wrath Foam Tattoo Tubes - Open Magnum -
13 / 1.5in / Open Magnum
$27.99
Wrath Foam Tattoo Tubes - Open Magnum -
15 / 1.5in / Open Magnum
$27.99
Wrath Foam Tattoo Tubes - Closed Magnum
Wrath Foam Tattoo Tubes - Closed Magnum -
5 / 1.5in / Closed Magnum
$27.99
Wrath Foam Tattoo Tubes - Closed Magnum -
7 / 1.5in / Closed Magnum
$27.99
Wrath Foam Tattoo Tubes - Closed Magnum -
9 / 1.5in / Closed Magnum
$27.99
Wrath Foam Tattoo Tubes - Closed Magnum -
11 / 1.5in / Closed Magnum
$27.99
Wrath Foam Tattoo Tubes - Closed Magnum -
13 / 1.5in / Closed Magnum
$27.99
Wrath Foam Tattoo Tubes - Closed Magnum -
15 / 1.5in / Closed Magnum
$27.99
Wrath Disposable Foam Tattoo Tubes - Round (15 Pack)
Wrath Disposable Foam Tattoo Tubes - Round (15 Pack) -
3 / 1.5in / Round
$27.99
Wrath Disposable Foam Tattoo Tubes - Round (15 Pack) -
5 / 1.5in / Round
$27.99
Wrath Disposable Foam Tattoo Tubes - Round (15 Pack) -
7 / 1.5in / Round
$27.99
Wrath Disposable Foam Tattoo Tubes - Round (15 Pack) -
9 / 1.5in / Round
$27.99
Wrath Disposable Foam Tattoo Tubes - Round (15 Pack) -
11 / 1.5in / Round
$27.99
Wrath Disposable Foam Tattoo Tubes - Round (15 Pack) -
14 / 1.5in / Round
$27.99
Wrath Foam Tattoo Tubes - Diamond
Wrath Foam Tattoo Tubes - Diamond -
3 / 1.5in / Diamond
$27.99
Wrath Foam Tattoo Tubes - Diamond -
5 / 1.5in / Diamond
$27.99
Wrath Foam Tattoo Tubes - Diamond -
7 / 1.5in / Diamond
$27.99
Wrath Foam Tattoo Tubes - Diamond -
9 / 1.5in / Diamond
$27.99
Wrath Foam Tattoo Tubes - Diamond -
11 / 1.5in / Diamond
$27.99
Wrath Foam Tattoo Tubes - Diamond -
14 / 1.5in / Diamond
$27.99