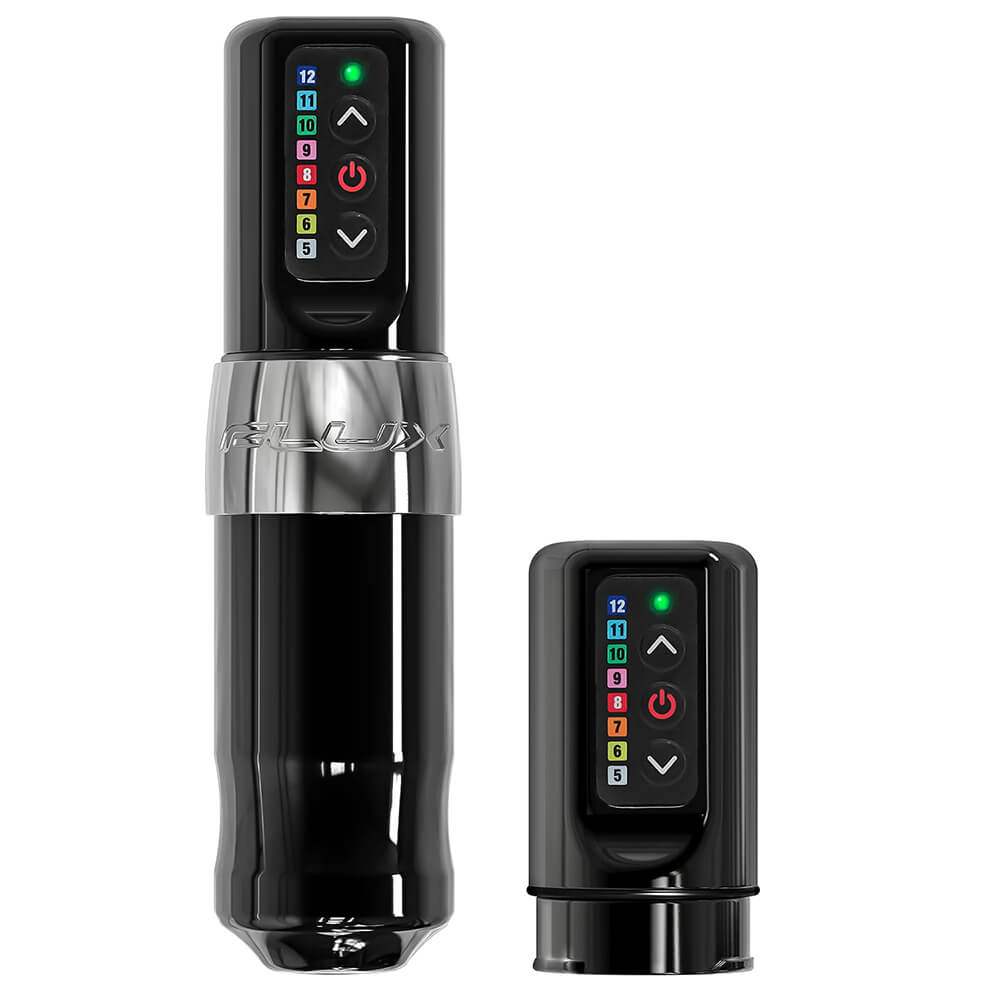 FK Irons
FK Irons Spektra Flux With Additional PowerBolt
FKI-SF-CAP
Type: With Additional PowerBolt
The FK Irons Spektra Flux offers completely unrestricted movement through its completely wireless design. This lightweight, 4mm stroke direct drive rotary is ideal for both lining and shading, providing steady power output for up to 10 hours. Its simple 3-button user interface allows for quick voltage adjustments in increments of .5v. Pair an iOS or Android device to the Spektra Flux via Bluetooth to adjust voltage with voice commands, check session time, and install firmware updates through the DarkLab mobile app.
Please note that we do not accept returns on any machines that have been used.
FEATURES: 
Fully wireless
Direct Drive Rotary
4mm Stroke
Weight: 6.3oz
Consistent power output
LED Voltage Indicator displays voltage and battery life and allows for adjustments
Incremental .5 voltage adjustments
Detachable battery allows for connection to auxiliary power
Battery Life: ~10 hours
~1.5 hour charge time
USB-C port for easy charging
Pair to the DarkLab App on Android and iOS devices via Bluetooth to adjust voltage with voice commands, view session time, and download/install firmware updates
Compatible with most membrane needle cartridges
Voltage Range: 5-12 Volts
Grip Diameter: 1.3" (33mm)
Made in the USA
NOTE: THIS PRODUCT CANNOT BE AIR SHIPPED
FK Irons Spektra Flux With Additional PowerBolt - With Additional PowerBolt / Chromium
has a rating of
4.8
stars based on
4
reviews.
Quick Order Form
Add multiple products and quantities below:
FK Irons Spektra Flux With Additional PowerBolt
FK Irons Spektra Flux With Additional PowerBolt -
With Additional PowerBolt / Chromium
$1,099.99
FK Irons Spektra Flux With Additional PowerBolt -
With Additional PowerBolt / Stealth
$1,099.99
FK Irons Spektra Flux Standard
FK Irons Spektra Flux Standard -
Standard / Chromium
$899.99
FK Irons Spektra Flux Standard -
Standard / Stealth
$899.99